Hack.lu and CTI Summit 2023 - 16-19 October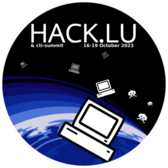 An open convention/conference where people can discuss about computer security, privacy, information technology and its cultural/technical implication on society.
Conostix
will sponsor the event with Wi-Fi coverage, along with
Kappa Data
&
RUCKUS Networks
.
Conostix S.A.
provides you with excellent security and system services in Luxembourg. Our engineers provide high level quality with a security driven mind. It is our mission to leverage your existing infrastructure and assist you in efficient security management.
Your shortcut to security
Conostix has a large expertise in complex security oriented projects. We deliver high level security management consultancy to improve your enterprise wide security strategy. Our certified consultants have a wide range of expertise and deliver outstanding services to help you with compliance issues.
Tailored solutions
Conostix is your key contact for tailored solutions on GNU/Linux, *BSD and open source software. Our experience ranges from custom development to enhanced code for existing open source packages according to customer's needs.
Customer Care and Local Support
Customer satisfaction is our top priority, our customer care department is dedicated to provide you with an excellent service to help you maximize your security infrastructure performance.
Conostix S.A. was founded in Luxembourg in August 2001.
Now available at www.conostix.com: LuxTrust compatible card readers